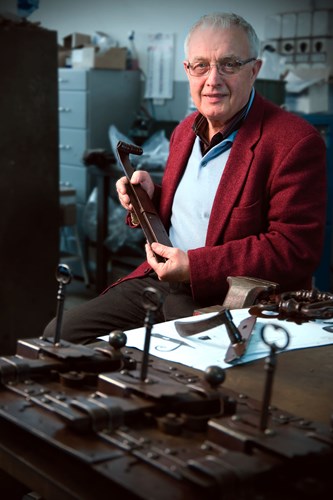 "The Forgiato" is an over 20 years identified brand, that is seen as the perfect product line when you have to make a renovation, when you have to renew or replace the frames and other components, from the handle to the small details. Thanks to our production methods, that combine some mechanical processes to traditional manual processes, we can recreate handles, hinges and accessories with the same taste of a time. This allows us to reproduce faithfully the items that you can see in this catalog and those that we can recreate from a drawing, from a picture or from the authentic sample.

With our now famous "Rust" finish that we have improved over the years, we obtain a natural aging process of the iron without the use of colored paints and/or the use of colored waxes.

The visual and tactile result is a faithful reproduction of an antique item, so that this finish has been recognized from our customers as the perfect finish that best reproduces the look of an authentic antique piece. We are pleased to introduce with our new catalog 2015 three new special finishes: Antique silver, an elegant antique silver which is enhanced in any situation; Antique gold, a surprising and particular shade of aged gold; Italian Black, a mate black finish with an anticorrosion base and an aging process that makes the finish truly unique.

With our wide selection of items we will have the pleasure to decorate your homes, creating harmony and emphasizing that what surrounds you. Reproducing everything that was already beautiful is our philosophy.